| | |
| --- | --- |
| We know that finding a best match pots and pans for your kitchen is sometimes not easy, hard to understand, and very opinionated by ads, then our goal is to provide you with unbiased, honest information, easy-to-browse guides with links directly to stores that carry them. | |
Hard-Anodized Cookware

The hard-anodized aluminum is an upcoming trend of cookware for more durable nonstick surfaces. Mostly, it's made of aluminum that has been hardened by electric-chemical process to change the surface aluminum oxidation that makes it non-porous, while retains good heat conductivity. Say, this uncoated nonstick cookware is twice tougher than stainless cookware.



For short-cut guides, firstly, see the coatings. Though electrochemically-hardened aluminum makes the nonstick surface hard and scratch resistant, the strength of each product depends on the anodizing practice; each product does the different. Remember, the harder coats, the longer and safer uses. Secondly, the hefty and heavy construction tells how good your pan is. Still, it's up to your preferences. Lastly, know the pros. Circulon successes for introducing harden nonstick which allows for dishwasher-safe, as well as glass and induction compatibility. While Calphalon and Anolon claims from extra-hard surfaces, about 3-times longer life than standard pans dos.





| | |
| --- | --- |
| Top 10 Best Hard-Anodized Cookware 2017 | |
1
2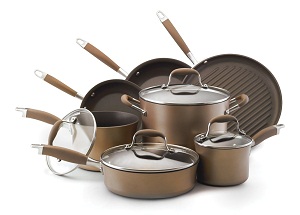 Best Performance
Good Housekeeping and Consumer's Digest 2011. Full Review »

3
4
5
---
Runner's Up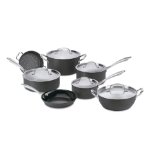 If you think the PTFE-and PFOA-free or eco-friendly cookware will have to sacrifice some parts of cooking performance for food safety, you'll know ---not for this Cusinart GreenGourmet.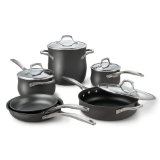 Ready for cook-like-a-chef experiences? The unique Unison accents splendid features for pros ---nonstick, superior performance, reliable construction and dishwasher-safe. Lifetime warranty is exceptional worth.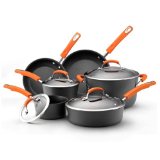 No need to be a fan of Rachael Ray, Yet this fantastic non-stick cookware will make falling in love with. This is a good combination of quality and style for family kitchen. Dishwasher-safe is interesting features updated.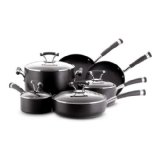 At the first pace, what to win is the unique and stylish look. Yet, when talking about cooking quality, we've found that Circulon Contempo does really pleased nonstick pans with evenly heat. The construction is well-built for years long. The pans got High rating from Good HouseKeeping.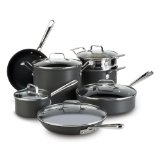 Wish for nonstick cookware designed by real chef? Emeril Lagasse presents his expertise gear for optimize cooking results. With 450F heat resistant, good ergonomically constructed, dishwasher-safe and PFOAs-and Cadmium-free, Emeril does his good job for home cooks.