| | |
| --- | --- |
| We know that finding a best match pots and pans for your kitchen is sometimes not easy, hard to understand, and very opinionated by ads, then our goal is to provide you with unbiased, honest information, easy-to-browse guides with links directly to stores that carry them. | |
Non-Stick Cookware

Is nonstick the most favorable for your skillets? Non-stick cookware becomes popular for making our life easier these days-for comfy to cook, less oil or butter and breezy cleaning. There're lots of nonstick types on the market -from traditional nonstick, infused coats to PFOA- and PTFE-free pans for reducing harmful chemicals.



Need a brief review? First, the nonstick coat does matter. The type of surfaces tells how quality and safety of the tools. Consider ceramic or non-Teflon pans if you're health-conscious. Second, consider the construction; the weight and heat conductor play the big rules. Last, remember that each brand does best in different types. Calphalon, Anolon and Circulon are good at in anodized pans, while Scanpan, EarthPan and GreenPan are spotlighted for PFOA-free products.





| | |
| --- | --- |
| Top 10 Best Non-Stick Cookware 2017 | |
1
2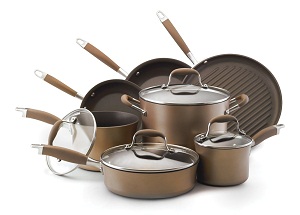 Best Performance
Good Housekeeping and Consumer's Digest 2011. Full Review »

3
4
5
---
Runner's Up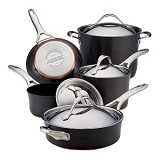 For experienced cooks, having cooking gears that feature high productivity, excellent craft and nice ergonomic design is something significant. If that could mean, Anolon Nouvelle Copper should be claimed for the cookware for pros.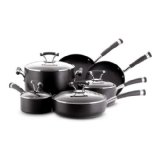 At the first pace, what to win is the unique and stylish look. Yet, when talking about cooking quality, we've found that Circulon Contempo does really pleased nonstick pans with evenly heat. The construction is well-built for years long. The pans got High rating from Good HouseKeeping.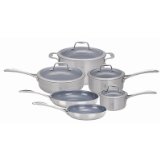 If all you look for is PTFE- and PFOA-free and truly nonstick cookware, which features the high quality of construction and utilization by German standard, this Zwilling J.A. Henckels will show cooking spirit on their gear.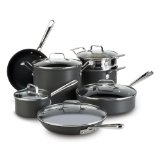 Wish for nonstick cookware designed by real chef? Emeril Lagasse presents his expertise gear for optimize cooking results. With 450F heat resistant, good ergonomically constructed, dishwasher-safe and PFOAs-and Cadmium-free, Emeril does his good job for home cooks.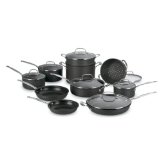 When real-life cooking is concerned, Cuisinart Chef's Classic is striking for its value and various sizes of selection for every tasks ---from 7-to 17-piece sets. These hardened nonstick pots and pans are well-designed for everyday cooking, as well as cleaning. 12" skillet is picked by American's Test Kitchen.